Admissions and Uniform
Admissions
Below you will find our finalised admissions policies for the academic years 2021-2022, 2022-2023 and 2023-2024:-
St Mary's Admissions Policy 2021-2022
St Mary's Admissions Policy 2022-2023
St Mary's Admissions Policy 2023-2024
For general admissions information, please visit Tameside LA's website at http://www.tameside.gov.uk/admissions
As St Mary's is a Voluntary Aided School, we do ask for additional information, to support your application, including birth certificate and baptismal certificate, as well as proof of address. As we are unable to hold an open evening at this time, you can watch the short video clip, which shows the Reception learning environment (see below).
Admission appeals are managed by Tameside LA and further information can be found here http://www.tameside.gov.uk/admissions
In-Year Applications
An application can be made for a place for a child at any time outside the admission round and the child will be admitted where there are available places. An application should be made to the school by completing the in-year admissions application form and returning it to https://www.tameside.gov.uk/admissions#_How_to_Apply_3
Where there are places available but more applications than places, the published oversubscription criteria, as set out in the admission arrangements for 2021 - 2022, will be applied. Please see the admission arrangements in the policy above. Parents are advised to read the admission arrangements carefully before making their application.
If there are no places available, the child will be added to the waiting list. Please see the admission arrangements for more details.
You will be advised of the outcome of your application in writing as soon as possible. Applicants must be informed of the outcome of their application within 15 school days of receipt, but the aim is to notify applicants of the outcome of their application within 10 school days of receipt.
You have the right to appeal to an independent appeal panel if your application is unsuccessful. Admission appeals are managed by Tameside LA and further information can be found here https://www.tameside.gov.uk/admissions
If you have any questions in relation to in-year admissions please contact the Headteacher, Saint Mary's Catholic Primary School, Cheetham Hill Road, Dukinfield, Tameside, SK16 5LB. You may also wish to discuss in-year applications with the local authority https://www.tameside.gov.uk/admissions
Letter from Tameside Admissions Team October 2020
Uniform
We place great importance on the appearance of our pupils and respectfully ask parents to adhere to our uniform policy. We feel that our school uniform contributes to a sense of belonging to the school family. It also helps our children to realise that their school is a place of purpose. As of September 2021, our school uniform changed and we are extremely proud of how smart the children look. The new uniform can be seen below: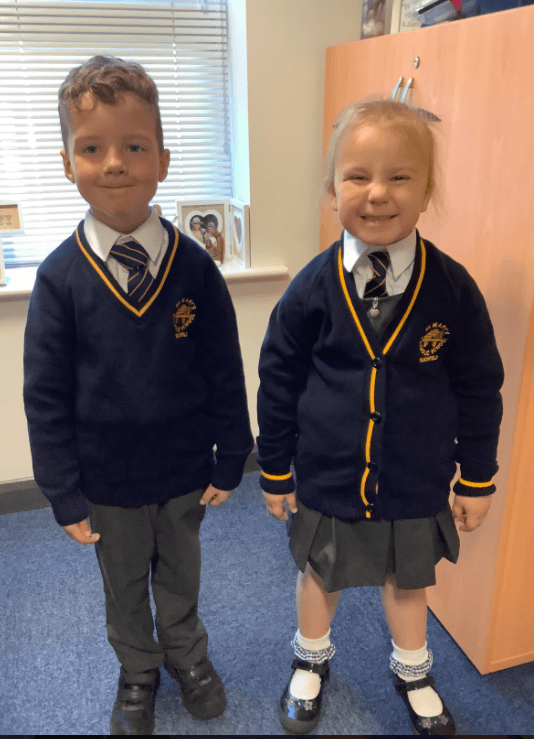 The uniform consists of:
White shirt
Navy blue tie, with gold stripes
Navy blue jumper / cardigan with gold piping and school crest
Grey trouser s/ shorts / pinafore / skirt
During the summer months, children are also permitted to wear:
Plain white polo t-shirt
Blue and white gingham summer dress
P.E. Uniform
P.E. uniform is: White polo T-shirt, navy blue shorts and plimsoles (pumps). A P.E. bag is required to store P.E. kit. Beach or play clothes are not suitable. It saves a lot of worry if all items of clothing are clearly labelled with your child's name. We expect children to be able to dress and undress themselves for P.E. (help will be given to young children if necessary).
Outdoor P.E. Uniform
Outdoor P.E. uniform for boys and girls is a plain navy tracksuit.
The tracksuit needs to be:
Warm
Navy
Free from any logos/sporting clubs
Hoodies with the school logo are also available, but are not compulsory.
Footwear
For health and safety reasons the children should come to school in sensible black school shoes without heels or sling back type shoes. Pumps or suitable trainers are needed for P.E. and sports. Children must always wear socks or tights.
Hair
Children are expected to have appropriate hairstyles. Extreme hairstyles are unacceptable, as are hair motifs and dyed hair. Ribbons or clips should be discrete. Long hair should be tied back.
Any families experiencing difficulties in purchasing school uniform, should contact the school office.