Uniform
We place great importance on the appearance of our pupils and respectfully ask parents to adhere to our uniform policy. We feel that our school uniform contributes to a sense of belonging to the school family. It also helps our children to realise that their school is a place of purpose. As of September 2021, our school uniform changed and we are extremely proud of how smart the children look. The new uniform can be seen below: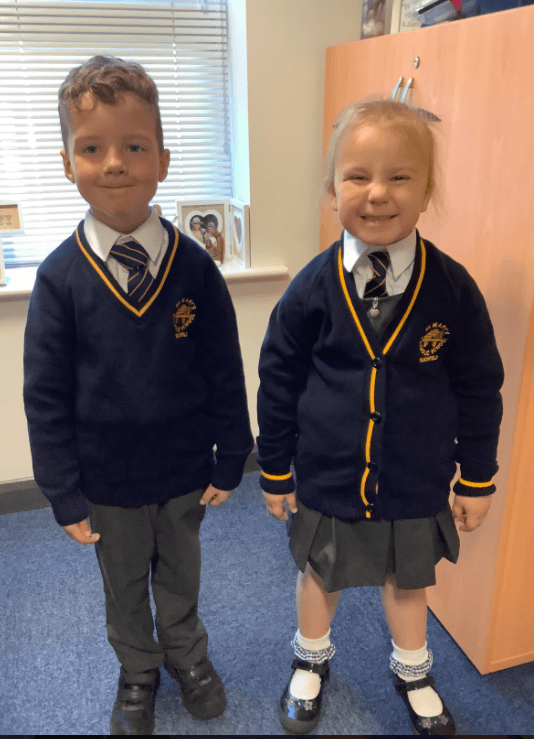 The uniform consists of:
White shirt
Navy blue tie, with gold stripes
Navy blue jumper / cardigan with gold piping and school crest
Grey trouser s/ shorts / pinafore / skirt
Tie (blue with gold strips 3cm distance apart) UPDATE: August 2023 - We are aware that a uniform shop in Ashton is selling an incorrect tie design for our school. We have asked them to remove this from sale. See photo below for clarification.
During the summer months, children are also permitted to wear:
Plain white polo t-shirt
Blue and white gingham summer dress
P.E. Uniform
P.E. uniform is: White polo T-shirt, navy blue shorts and plimsoles (pumps). A P.E. bag is required to store P.E. kit. Beach or play clothes are not suitable. It saves a lot of worry if all items of clothing are clearly labelled with your child's name. We expect children to be able to dress and undress themselves for P.E. (help will be given to young children if necessary).
Outdoor P.E. Uniform
Outdoor P.E. uniform for boys and girls is a plain navy tracksuit.
The tracksuit needs to be:
Warm
Navy
Free from any logos/sporting clubs
Hoodies with the school logo are also available, but are not compulsory.
Footwear
For health and safety reasons the children should come to school in sensible black school shoes without heels or sling back type shoes. Pumps or suitable trainers are needed for P.E. and sports. Children must always wear socks or tights.
Hair
Children are expected to have appropriate hairstyles. Extreme hairstyles are unacceptable, as are hair motifs and dyed hair. Ribbons or clips should be discrete. Long hair should be tied back.
Any families experiencing difficulties in purchasing school uniform, should contact the school office.